This Toothpaste Dispenser and Toothpaste Squeezer Kit are made from Environment-friendly silicone, harmless to toothpaste tube, Dustproof toothbrushes holder with flip cover design, Anti-bacterial and Easy to clean. Toothbrush holder Wall Mount - comes with enhanced adhesive tapes, easy to install the dispenser and the holder on our wall. Non-nail design won't damage the wall. Hygienic & Economy - Pump every drop toothpaste in tube Keeps everything nice and neat. Great accessory for your bathroom. Way less clutter around the sink.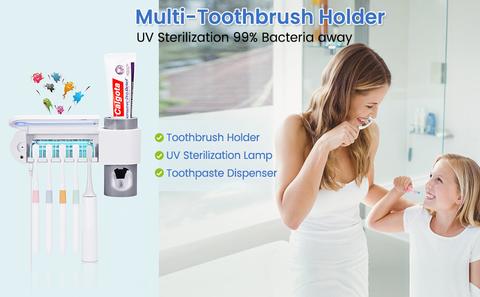 INSTRUCTION
Wash and clean the wall.

Heating the sticky hook with a blower.

Uncover the protective film, stick it to the wall and compact it.

After 24 hours

, mount the Toothbrush Holder Set.

Hold the panel and install the toothpaste.

Please empty the air by pushing the trigger five or six times when first use.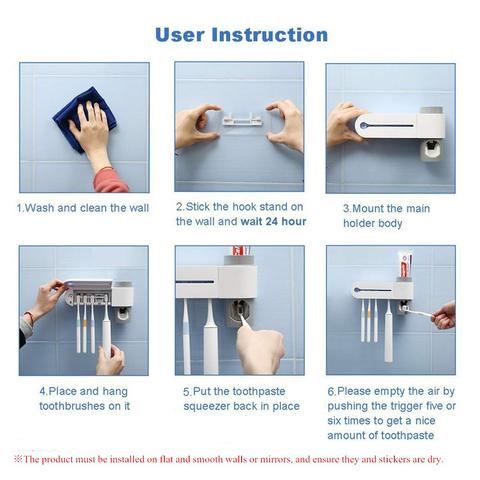 The product must be installed on flat and smooth walls or mirrors, and ensure they and stickers are dry.
This product won't dry your toothbrush, it only can sterilize it. We recommend that customers had better dry their toothbrushes before putting them in for disinfection.
Cylinder Design for Toothpaste Dispenser
Suitable for the toothpaste with an outlet tube diameter of 0.04in and a height of 0.3in~0.6in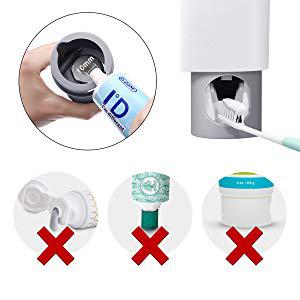 SPECIFICATIONS:
Size: 80.3*5in (L*W*H)

Lamp Life Span: >25000 hrs

Disinfection rate: Up to 99.9%

Ultraviolet intensity: 1000uW/cm2

Working current: 180mA Power: 2W

TOOTHBRUSH DISINFECTION METHOD
Load toothbrushes, with bristles toward the inside.

Plug in power, press the silver button switch

Close the lid,

UV light off after 5 minutes automatically

Please avoid too much water spilled into the UV lamp and avoid violent impact.

SUITABLE FOR FAMILY USE
Can mostly hand up five toothbrushes.

Easy to stick with ceramic, metal, and glass.

Suits for Kitchen, bathroom, hotel and so on.

It is hygiene and convenient, you will like it very much.

This item will fit most toothpaste tubes (Diameter 10mm).
PACKAGE INCLUDED
1 x Automatic Toothbrush Holder Set

2 x Universal strong sticky hook

1 x Customized Packaging

1 x User Manual

1 x Warranty Card