Deformable Design:
Three LED panel heads
can be adjusted, each light head can be folded up to 90. The maximum coverage angle can reach 360
, This will make the light cover a wide area.
The lighting is adjustable
so that you can angle the LEDs to shine where you want them
Super Bright:?80W, 9600Lumens, 6000K Cold light,no dark areas, ghosting or glare. Garage led Ceiling Light throws out an amazing amount of light, unique wide-angle design, bring best lighted area. High lumens output makes this garage led light perfect for garage, warehouse, basement, barn, office, station, Attic, workshop, display area etc
Easy To Install: Garage light fixture is easy to Install, no tools required, no wiring, just screw it into a normal lamp receptacle. However, this garage work light brighter than a light bulb.Note that it works great in a standard light socket

Long Life& 85% Energy Saving: Premium heat dissipated, high-temperature resistant, along with the hollow-out structure greatly improved cooling efficiency for maximum performance and over 50,000 hours of constant runtime. This 60W Garage Light can replace a 300W traditional halogen bulb,?maintenance costs are greatly reduced.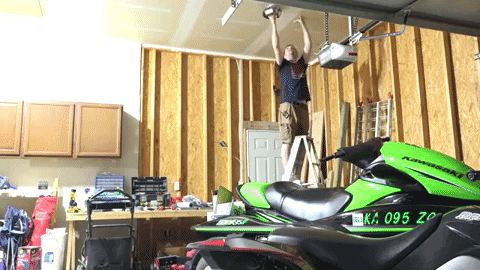 Detector Aids With Safety: The motion detector that's built into each of these lights will aid with the safety of you and others around your home in various situations. Aside from lighting your way as you approach your light on foot, the light will detect the motion of vehicles as they approach. Therefore, you'll be able to see super-clearly as you enter your garage on wheels at night. If you hang one of these lights directly outside your home,?it'll also detect the movement of potential intruders,?including animals that may do some damage to your lawn.

Specifications:

PC material

60W ,80W,100W power

7200~9600 Lumens

6000K White light color

100V~277V operating voltage

Lifespan: 50,000 hours

Color rendering index (CRI) ¡§R 80
Manufacturer production site