Folding Multifunctional Pliers
Feature:
Multitool features 12 integrated tools with a butterfly design for easy everyday carry

Lightweight, open frame makes multi tool great for carrying on tool belt or in your pocket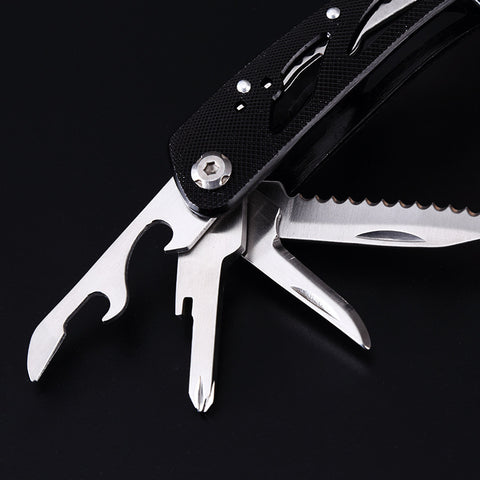 Easy accessible opening makes tool kit convenient for accessing needle nose pliers, knife, and more

Included with the multitool is a ballistic nylon sheath for easy transport and secure storage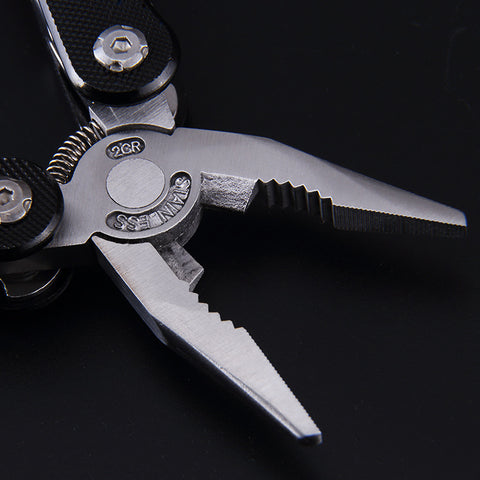 Saf.T.Plus locking system is designed to keep the knife edges and tools securely locked in place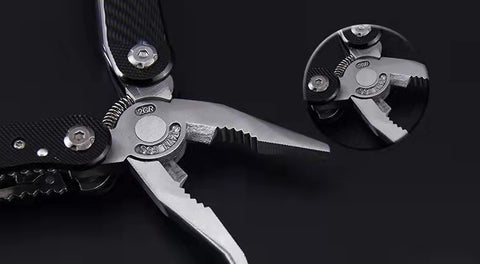 Tough, reliable, and easy to handle, the Suspension Multi-Plier is engineered to tackle jobs in just about every situation you can imagine. Featuring a sleek butterfly design, durable stainless steel construction, and patented Saf.T.Plus component locking system, this affordable multitool packs 11 convenient tools that will quickly prove indispensable.
 Strong, Innovative Open-Frame Design
Strong yet lightweight, the Suspension Multi-Plier offers the durability of stainless steel construction along with an aluminum butterfly-opening handle that's inspired by the precision engineering of Portland, Oregon's famous suspension bridges. Like those time-tested iron bridges, this tool is designed to deliver the down-and-dirty performance that you demand from your tools.
But performance isn't everything. The tool's unique suspension-style handle sits comfortably in your hand, giving it a well-balanced feel. Compact enough to satisfy the most demanding minimalists, and cool enough for any gadget guy or girl, the Suspension Multi-Plier offers a sleek, streamlined design that will look as good as it performs.
Reliable, Easy-to-Access Tools Keep You Prepared
Whether you're at home, on the road, at a muddy jobsite, or deep in the backcountry, you can't predict what you'll be up against. The Suspension Multi-Plier is fitted with 11 tools that will give you the edge in virtually any situation.
Starting with the knives, you have the choice of a straight blade for fine-tune cutting, or a serrated blade that's great for cutting rope.
Other useful features hidden away in the handle of the Suspension include scissors, a bottle opener, a can opener, saw, an awl, and a lanyard ring.
Safe, User-Friendly Design
securely in place for worry-free use.
Even with this lock system, deployment is quick and easy.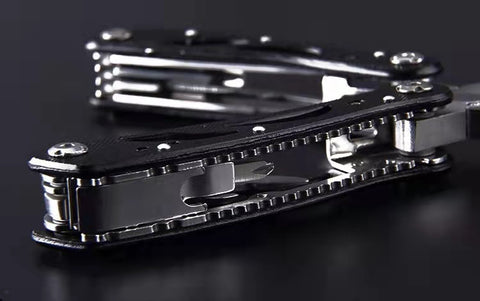 Package Includes: 1 x Folding multifunctional pliers