THE ACCESSORY YOUR BIKE NEEDS!
It's strange that most bicycles don't come equipped with rear-view mirrors. Given the fact that the average bike riding speed of commuters is 18-29 km/h vs 15 km/h for cars, it seems like common sense to have a mirror that lets you look at vehicles approaching you from behind, right?

Our Universal Rear-View Bike Mirror makes sure you navigate traffic safely. It features a clear Poly carbonate glass, with 120° wide-angle, allowing you to see what's behind you up to 100 meters away. Our universal design works on road bikes, mountain bikes, e-bikes, and even scooters and motorcycles. Simply attach and off you go!

The compact and adjustable curved mirror instantly increases rider safety by giving you a clear view of approaching vehicles so you don't need to listen to horns or turn to constantly look back whilst riding ahead. This not only makes your riding safer but also more comfortable.

FEATURES:

Easy To Install: No tools required. Designed with an adjustable rubber buckle strap for all handlebar sizes. Can be attached in less than 2 minutes!
Lightweight and Durable: You won't even notice the weight as it's really light! Made of strong glass and a durable rubber strap to handle bumpy terrain.
Sleek Design: Ergonomic and discreet design fits seamlessly not adding any bulk to your ride.
Multi-Function: Base offers 360° full rotation to face any direction.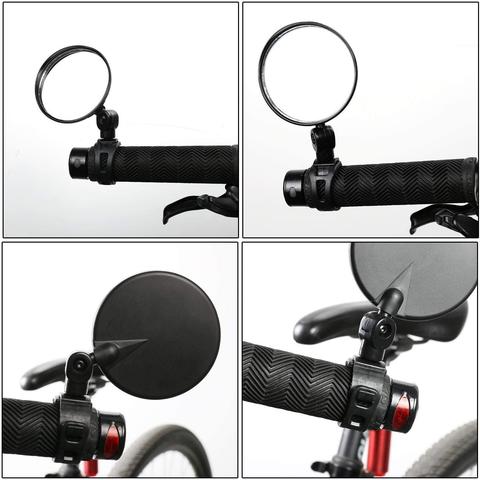 So, put safety first and ride in comfort!