Effortlessly enjoy the perfect cup of tea with our ceramic tea pot.
Just add tea leaves and hot water, and effortlessly pour your tea without any hassle.
 Cherry blossom color change: in hot water can change color, so that you can enjoy the appearance of cherry blossom when making tea
Our innovative design ensures a complete separation of tea leaves and water. Indulge in the exquisite flavor and embrace ultimate relaxation!
Premium Material - The tea pot is crafted from high-quality raw mineral clay and fired at high temperatures. It features a detachable handle made of heat-resistant black mountain wood and a 304 stainless steel filter with evenly distributed pores.
Unique Design - The inner container can rotate 360 degrees and automatically filter, while the lid stays securely in place. The filter and tea pot are detachable, making it easy to use and clean.
Eagle mouth spout design, smoother water flow.
Perfect Gift - Traditional craftsmanship, crafted with care. Thoughtfully designed, beautiful and elegant. It is the ultimate gift for friends, parents, or tea enthusiasts.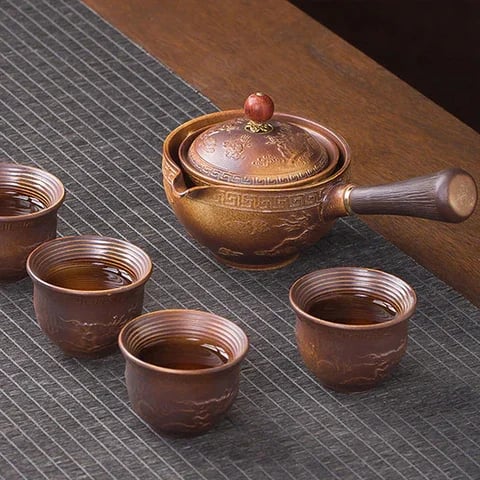 Specifications:
Material: Ceramics, Wood, Alloy
Size: 6.89" x 3.74" x 3.35"
Style: Sakura(color-changing)、China flowe、Firewood、Arlan、Wickerwork、Green、Blue、Black、Yellow Dragon、Red、White
Capacity: 150ml = 6.09oz
Package List:
1 Pot+4 Cups+1 Storage Bag